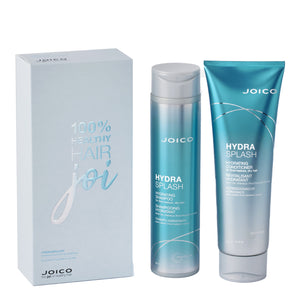 Joico's stunning Christmas Sets are a real treat for your hair! 
Hydrasplash Shampoo 300ml & Hydrasplash Conditioner 250ml
Even fine-to-medium hair gets thirsty and deserves a tall drink of water that doesn't make it fall flat. The luxurious lather of HydraSplash Hydrating Shampoo swiftly cleanses away residue without stripping much-needed natural moisture, leaving hair brilliantly clean, soft and looking healthy. 
Fornet about those dense, overly-creamy moisturising formulas that leave dry, fine hair flat and lifeless. HydraSplash Hydrating Conditioner brilliantly detangles and replenishes elasticity with a lightweight formula that won't weigh down hair. 
PUT THE JOI BACK TO INTO YOUR HAIR THIS WINTER