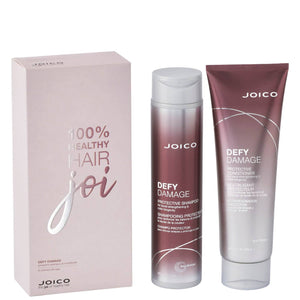 Joico's stunning Christmas Sets are a real treat for your hair! 
 Defy Damage Protective Shampoo 300ml &  Defy Damage Protective Conditioner 250ml
With a rich, luxurious lather featuring damage-preventing ingredients, this gentle daily cleanser swiftly sloughs away dirt, impurities, and build-up without roughing up the hair cuticle or stripping vibrant colour. The result: shiny, smooth, clean strands—wonderfully resilient and healthy-looking.
Defy Damage Protective Conditioner
 has been specially designed to nourish the hair while protecting against the effects of daily heat styling, UV exposure and environmental pollution that can lead to dull, lacklustre locks.
PUT THE JOI BACK TO INTO YOUR HAIR THIS WINTER