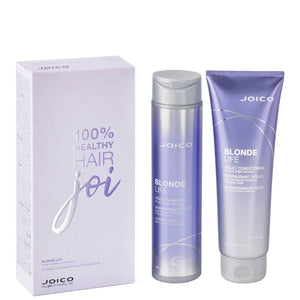 Joico's stunning  Sets are a real treat for your hair! 
Blonde Life Violet
 300ml &
Blonde Life Violet
Conditioner 250ml
You'll never lose your cool with Blonde Life Violet Shampoo—a brilliant, brass-neutralising cleanser, free of SLS/SLES Sulphates,* that instantly banishes undesirable yellow tones, so cool blondes stay nice and icy.
Nourish and neutralize in one brilliant application of Blonde Life Violet Conditioner, the colour-balancing formula that gives cool blonde hair everything it needs—shine, hydration, and protection–while sending brass packing.