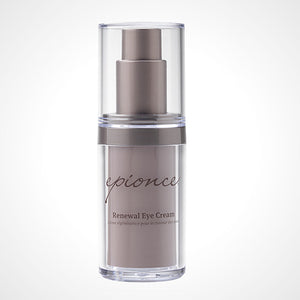 Please note that all Epionce products are available for offline purchase only, after consultation.
Renewal Eye Cream is an Epionce favorite for a reason. This therapeutic eye cream effectively repairs, soothes, and prevents visible ageing of the delicate skin around the eye. The result is youthful, healthy, and beautiful skin.
Now in new packaging, receive an extra 1 gram for the same price!
Key Benefits
Active Ingredient Complexes strengthen and fortify the skin barrier protecting it from aggressive and damaging inflammatory factors.
Soft-focus technology helps reduce visible signs of skin ageing such as dark circles, fine lines, wrinkles, and rough skin texture.
Formulated to complement the use of eye makeup.
Key Ingredients
Meadowfoam/Flax Complex
Date/Apple Fruit Extract
Rose Hip/Safflower/Avocado Complex
Essential Fatty Acid, Sterol and Ceramide Precursors