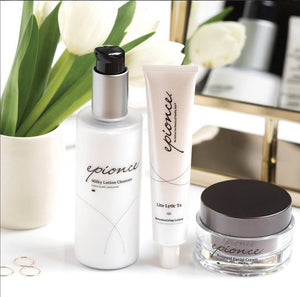 Please note that all Epionce products are available for offline purchase only, after consultation.
This package is the perfect way to start off your Epionce skincare journey. 
Specifically tailored for dry / sensitive skin. 
Package includes:
Milky Lotion Cleanser -

gently dissolves makeup, pollutants, bacteria, dirt particles, and other impurities. This soothing cleanser is effective without harming the skin's protective barrier and irritating or drying out the skin.

Lite Lytic Tx -

effectively helps eliminate skin imperfections and smooth uneven skin texture. 

This product is clinically proven to be effective in smoothing imperfections and reversing visible ageing, when used in conjunction with Renewal products.

Renewal Facial Cream -

boasts an unsurpassed formula. This clinically proven cream luxuriously hydrates your skin while effectively stimulating barrier repair and reversing/preventing release of destructive inflammatory factors. It corrects, prevents and protects your skin's barrier against the damaging effects of environmental aggressors that cause chronic inflammation.