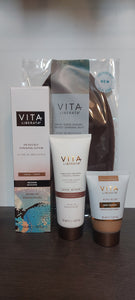 Vita Liberata Glow in The Moment The Devine Glow Gift Set is a luxury self tan gift set featuring full size bestselling products Tinted Tanning Elixir and Body Blur with a luxury tanning mitt to finish off that golden glow this Christmas. Ideal for that Christmas party night out tanning!
Why you need it:
Vita Liberata Body Blur Shade Medium: The ultimate wash-off, easy application body make up suitable for face and body. This skin perfecting makeup hydrates the skin for a radiant glow, smoothing the tone of the skin leaving a red carpet finish to the skin.
Fabulous Gradual Tanning Lotion: Build a natural-looking glow with the Untinted Fabulous Gradual Tanning Lotion from Vita Liberata.  The gentle formula is enriched with aloe vera, witchhazel and hyaluronic acid, helping to richly hydrate the skin while promoting a sun-kissed tan. The sumptuous lotion quickly absorbs to help lock in moisture, developing over 4-8 hours to gradually reveal a golden bronze tan.
Dual Sided Luxury Velvet Tanning Mitt: This will elevate your self-tanning routine with this luxury precise tanning mitt for a perfect, streak-free tan application. This must-have accessory protects your palms and helps product glide on for a smooth, flawless tan every time. 
Vita Liberata Heavenly Elixir Tinted Shade Dark: A luxurious cocoa-scented, hydrating lotion that locks in moisture and penetrates the skin deeply to develop the most natural-looking tan in 8 hours. This technology continues to slowly release DHA, enhancing your tan result for up to 72 hours after application. This Tinted Tanning Elixir is created with the most innovative technology and advanced ingredients, including botanicals, to hydrate and give your skin a natural sun-kissed look that fades evenly over 10 days. This Vegan formula is suitable for use on both Face and Body, for the perfect long-lasting tan result. 
How to use:
Body Blur: A little goes a long way! For body use a tan mitt or your hands. Apply Body Blur in small pea sized dots along limbs and then blend well in long circular movements. For face and décolletage, apply sparingly with fingers or a foundation brush. 
Fabulous Gradual Tanning Lotion: Prior to use, ensure skin is clean and exfoliated, and do not apply any moisturiser. Massage into the skin in long circular movements using your hands or a mitt. If you use your hands, wash after application. Leave on skin for 4-8 hours before showering. Apply 2-3 times per week to prolong your tan and nourish your skin.
Dual Sided Tanning Mitt: To optimise your luxury tanning skin finish, apply using this extra soft flock tanning mitt. Pump product onto the mitt and cup your hand to evenly distribute across the mitt. Then apply directly to clean skin in long, circular movements for a streak-free, even and flawless tan finish. Finally, hand-wash the mitt in lukewarm water and leave to dry naturally in preparation for your next tan application.
Heavenly Tanning Elixir: Prior to tanning, ensure skin is clean and exfoliated, do not apply any moisturiser. Using a tanning mitt, massage the elixir into the skin in long circular movements. Use sparingly on hands, feet, knees and elbows. Leave on skin for 8 hours before showering, or longer for a darker result. Rinse and pat dry. Your medium, natural tan will continue to slowly develop for up to 72 hours after application.

What's Included:
Body Blur Shade Medium Full Size 30ml
Fabulous Gradual Tanning Lotion 50ml
Heavenly Tanning Elixir Shade Medium Full Size 150ml
Dual Sided Luxury Tanning Mitt