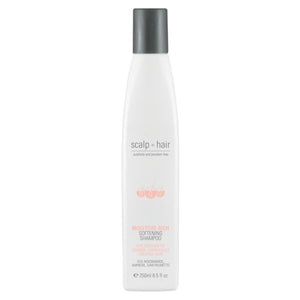 This shampoo is especially for those who want to add extra moisture and softening to your medium thick/frizzy hair.
Nak shampoo is a detox shampoo that cleans the scalp and restores the scalp's natural balance, while adding a lot of moisture. This shampoo can be used on chemically treated hair, as it acts protectively against your hair colour.
Removes any styling residue or other dirt that may accumulate on the scalp.
After use, hair and scalp will be infused with renewed strength and plenty of energy.
Is ideal for both men and women.
Contains no parabens or sulfates.
TRI-PLEX FORMULA:
Nak's Scalp to Hair range is formulated on a special TRI-Plex formula.
This formula is a unique and complex scientific formula that delivers active vitamins and minerals, herbs and plant extracts, and protective antioxidants to the scalp.
Together, these ingredients add up to a larger unit, and nourish and breathe new life into the hair follicle to counteract and prevent thinning hair.
Application:
Distribute an appropriate amount of the shampoo on the hair and scalp and lather well for 1 minute. Rinse thoroughly afterwards.
For best results, it is recommended to finish with NAK Moisture Rich Conditioner.