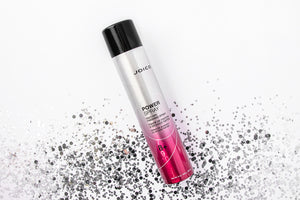 Mega holding power for the whole day.
 
A fast-drying, ultra-fine mist aerosol hairspray with firm to ultra-firm hold.
This firm to ultra-firm, layerable hairspray will give your hair a long-lasting, firm yet flexible finish that isn't hard feeling.
It contains opal powder which creates tremendous shine, and special silicones contribute to a smaller particle size for a non-sticky fixative.
All this works to thermally protect your hair 5.5x to 450°F, is colour-safe, and will increase your shine by 170% and protect your hairstyle from humidity by 89%, (even after three days).