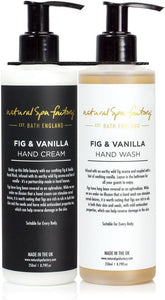 Take care of delicate hands this winter with this luxurious natural hand wash & hand cream set.
Figs are rich in oils and have anti-oxidant properties which can help reverse damage in the skin. Infused with the earthy wild fig aroma accompanied with a soft subtle soothing vanilla scent, this cream will keep your hands soft, supple and beautiful.
Benefits:
This gentle gorgeous scent, free from any nasties is suitable for daily use and perfect for leaving hands fresh and moisturised.
Tocopherol (vitamin E) has powerful anti-oxidants to protect and help moisturise the skin whilst being non irritating and anti-inflammatory.
Sweet almond oil is rich in A, B1, B2, B6 and E vitamins help soften the skin leaving it supple and moisturised.
Jojoba oil has a similar structure to sebum (the oil produced by our skin) so the skin allows it to absorb quickly and effectively whilst gently balancing and healing at the same time.