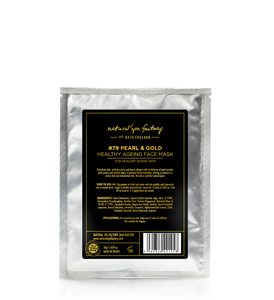 This precious facial treatment is a refreshing, luxury facial mask. It revives dull skin, retains moisture and leaves skin feeling smooth, gently cleansing to reveal radiant and beautiful skin.
Its soft structure and its gold colour are a true renewal booster. It provides firming effects with 100% pearl and gold extract leaving you with a youthful glow.
Benefits:
Gold locks in moisture and keeps skin firm by maintaining collagen in the skin and inhibiting the breakdown of elastin - perfect for healthy ageing.
Pearl powder speeds the skins natural metabolism to tone and rejuvenate the complexion and heal blemishes - rejuvenating dry, dull skin.
Pearl powder minimizes large pores and reduces redness.
Pearl powder helps to reduce the appearance of lines and wrinkles by firming, toning and brightening complexion. 
Align - from algae - helps retain and protect skin moisture, hydrating and pluming skin.