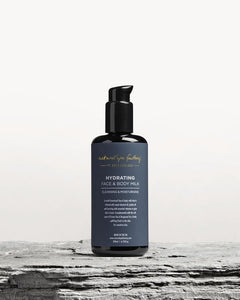 A multifunctional and gentle soothing cleanser and cream infused with chamomile and jojoba oil to cleanse, moisturise and nourish the skin. Gentle enough to use daily, and for all skin types.
Benefits:
Rich in almond oil, this cream is bursting with vitamin E, a potent antioxidant. Regular application can protect your skin from oxidative stress and UV radiation damage, keeping it soft and supple. Mildly hypoallergenic, the cream will not irritate or agitate sensitive skin.
Jojoba oil is also rich in vitamin E and B – helping in damage control and skin repair (perfect to soothe sunburn).
Green tea extract has a strong antioxidant effect that protects the skin from the damaging effects of free radicals.
It also contains methylxanthines that stimulates skin microcirculation and therefore positively influence the tone and health of the skin.