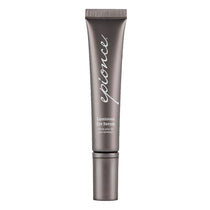 Please note that all Epionce products are available for offline purchase only, after consultation.
NEW Luminous Eye Serum is a silky, hydrating eye serum formulated with powerful yet gentle botanicals to brighten and smooth the eye area for a more awake, refreshed appearance.
Epionce Renew & Fortify products deeply penetrate through the skin barrier to reach targeted cells to strengthen, repair and fortify the skin.
Highlights
Brightens skin and smooths visible signs of ageing
Hydrates and refreshes skin for a more awake appearance
Reduces puffiness and appearance of dark circles
Artificial fragrance, paraben, SLS, gluten, cruelty and nut-FREE
Clinically proven to diminish the visible appearance of puffiness, dark circles, fine lines and wrinkles and droopiness safely and without irritation. Botanicals such as watermelon, astragalus and cacao combine with algae extracts to reveal more youthful, revitalised eyes. The Anti-Ageing Eye Duo–Luminous Eye Serum paired with Renewal Eye Cream–enhances results for a brighter, more youthful look.