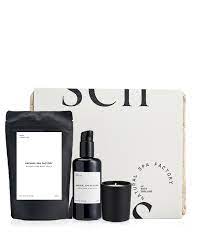 A little bit of self care goes a long way! Relax, heal and rejuvenate with a selection of these products.  These gift boxes are grown in seven days using mushroom technology called Mycelium. They are 100% compostable and break down naturally in just 40 days, so you can either drop it into your green waste or plant in the garden - making them the perfect sustainable gift!
GIFT SET CONTAINS:
1 x Winter Pear Body Scrub (250g) 
1 x Hydrating Body Milk (200ml)
1 x Mini Votive Adamo Candle (75g)
Benefits:
WINTER PEAR BODY SCRUB
With fine chunks of dead sea salt and real nigella seeds to naturally and effectively achieve a deep exfoliation
Salt scrubs are great for the skin - helping to stimulate circulation, flushing out toxins
Grape-seed oil contains antioxidants and anti-inflammatory properties, as well as linoleic acid, which is great for promoting skin health, alleviating fine lines and wrinkles and improving elasticity
Grape-seed oil is a very light oil that can be used on even the most sensitive skin. It has astringent properties to help tighten skin and close pores which is a great benefit to oily skin as it avoids clogging that can lead to pimples
Peach kernel oil is rich in essential linoleic and oleic fatty acids which give it a special affinity to the skin. It protects the skin by supporting its barrier function and thus preventing moisture loss
Nigella seeds (sometimes referred to as black onion seeds – from the fennel flower) have been proven to help ease psoriasis, leading to an increase in relative epidermal thickness
Nigella seeds also offer antibacterial protection to skin; great for a deep cleanse.
HYDRATING BODY MILK
Rich in almond oil, this cream is bursting with vitamin E, a potent antioxidant. Regular application can protect your skin from oxidative stress and UV radiation damage, keeping it soft and supple. Mildly hypoallergenic, the cream will not irritate or agitate sensitive skin.
Jojoba oil is also rich in vitamin E and B – helping in damage control and skin repair (perfect to soothe sunburn).
Green tea extract has a strong antioxidant effect that protects the skin from the damaging effects of free radicals.
It also contains methylxanthines that stimulates skin microcirculation and therefore positively influence the tone and health of the skin.
MINI VOTIVE ADAMO CANDLE
The vegan coconut and rapeseed wax is blended with essential oils and hand poured around a British made cotton wick so ensure a slow, even, no-soot burn.