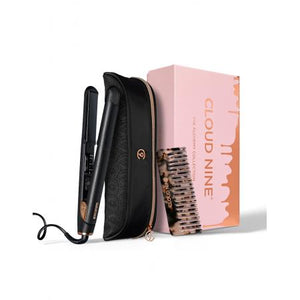 Award-winning Original Iron has been given a festive twist with Limited Edition rose gold detailing.

The Alchemy Collection Iron Giftset includes a black, silken, heat-resistant Style Case (worth £25).
The Original Iron allows you to experiment with a multitude of styles guaranteed to deliver super SHINY, long-lasting results and styles.
Thanks to the innovative Variable Temperature Control, you can choose from 7 heat settings (from 100oC to 200oC) to minimise heat damage and maximise your style.
With exclusive Kinder Styling Technology and signature Mineral-Infused Ceramic Plates,
The Original Iron is designed to lock in moisture and seal the hair cuticle, gliding through hair effortlessly for single-stroke styling. Leaving your hair feeling CONDITIONED and cared for.