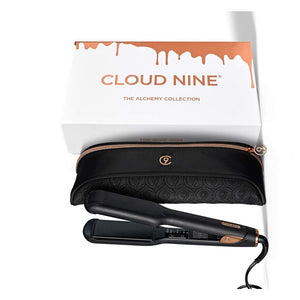 The Alchemy Collection Wide Iron Giftset includes a black, silken, heat-resistant Style Case (worth £25) 
A game changer for long, thick hair. The Wide Iron features Cloud Nine's INNOVATIVE temperature control, allowing you to choose from 7 different heat settings. Select the best temperature for your own, unique hair type and style to prevent damage and to create heavenly hairstyles with HOLD. The Wide Iron features wide plates, making styling long, textured or unruly hair a BREEZE.
This lust-worthy Giftset, features our award-winning Wide Iron and has been finished with mesmerising rose gold accents.